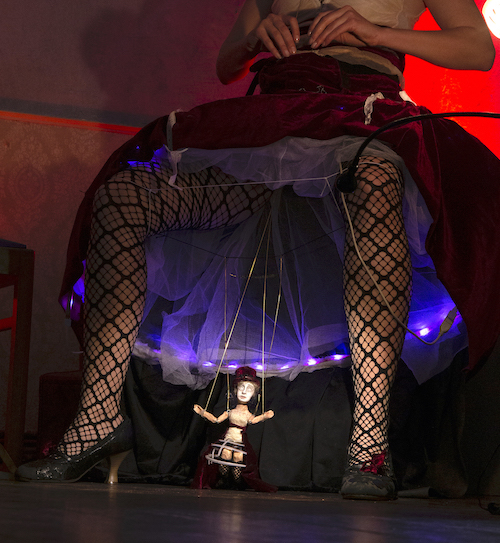 Schoßzirkus
Schoßzirkus
– Clara Isenmann
She is the circus directess and the circus itself. She is the light, the tent, the orchestra and also transforms into all her artists. When Madame Rouge lifts her magic skirt, a whole universe opens up underneath.
In "Schoßzirkus", a young woman discovers a circus under her skirt. To the sounds of her accordion, the red velvet skirt transforms into an illuminated ring, a sensual circus of life where anything is possible. In the whirl of a fantastic show, the puppets dance between her legs, are conjured out of a hat or born into the ring. A magically playful puppet solo by Clara Isenmann about the power of our dreams and the power of a young woman to create her own world.
Puppet solo by and with Clara Isenmann
Puppet construction: Clara Isenmann
Dramaturgy: Stefan Behr, Jacek Klinke. Supported by the Fonds Darstellende Künste
---
🗓️ Date |Saturday, 23.09.
⏰ Time | 7:30 p.m. – Duration | 20 min
📍 Location | (FOYER) INDOOR STAGE – PROTAGON E.V.
🌍 Language |German
👥Participants* | n/a
🌐 Contact | n/a
BIOS:

Clara Isenmann

is an actress, theatre maker, puppeteer and interdisciplinary artist. She currently plays at Theater Anu, poetic theatre in public space. She has performed in various projects (Volksbühne, English Theatre, Ship of Fools) and realises her own theatre productions (PAF Berlin, Karneval der Kulturen, Theaterspektakel Zürich), in which she also works as an author, puppet maker and musician. With her works, she invites us into magical, poetic worlds, creates playful beings, goes into public space with theatre and questions patterns of action. In doing so, she addresses questions around themes such as femininity, desire and transformation. She founded the theatre ensemble "Büro zur Überwindung der Realität" and the immersive performance and workshop format "Dinner of Decadence". Clara Isenmann studied Physical Theatre (MA, LISPA Berlin) and Audiovisual Media (BA).